Be It Unto Us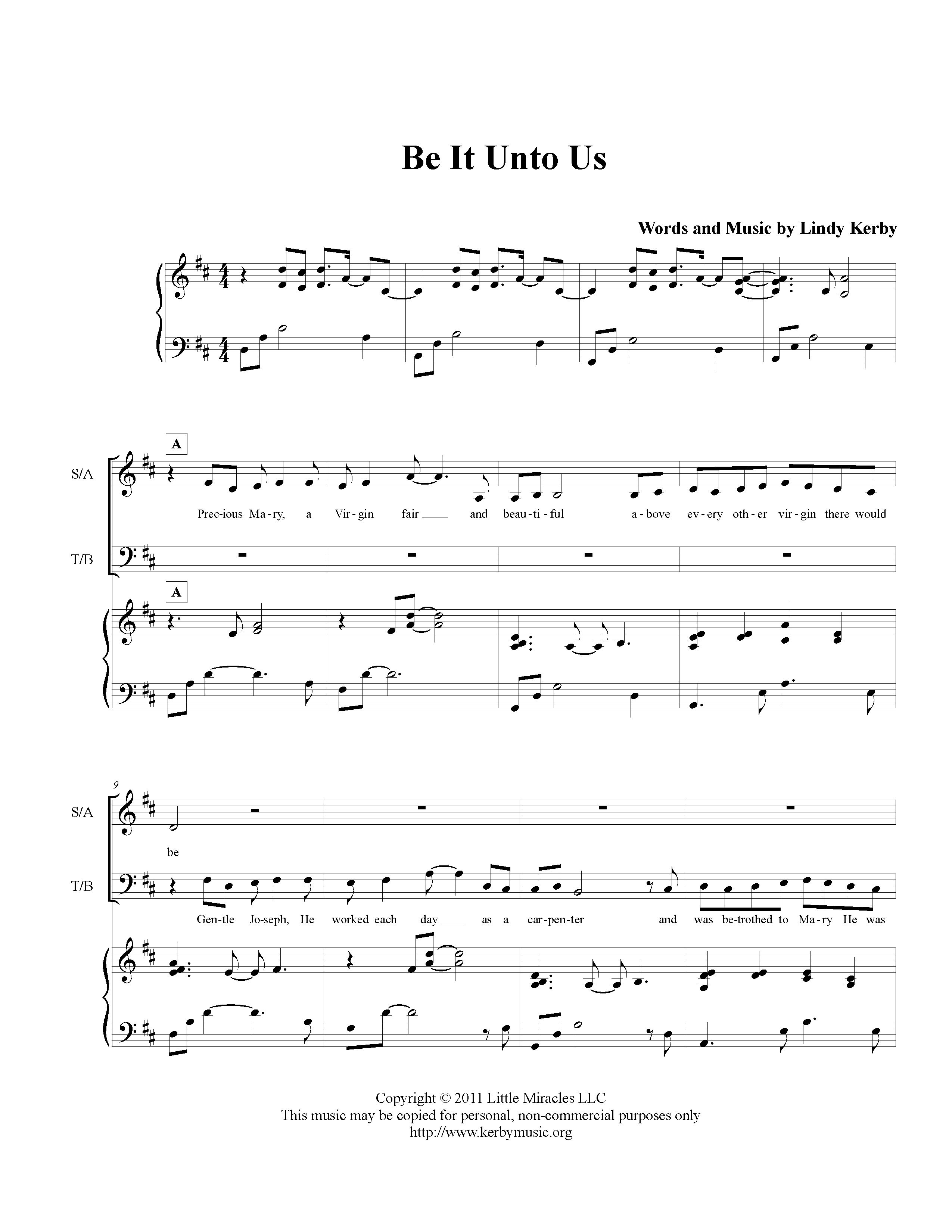 Lyrics:
Precious Mary, a Virgin fair and beautiful
above every other virgin there would be
Gentle Joseph, he worked each day as a carpenter
and was betrothed to Mary
He was young, (she was young)
and was strong, (she was strong)
and they both were willing to be
blessed with a son who's name was Jesus.
They said Be it unto us.

Precious Mary she served God as His mother
Imagine that the mother of the Lord!
Gentle Joseph, not of his blood was He,
but he raised Him as his own
and he was kind (she was kind)
and he was mild (she was mild)
and they raised him as their child.
The King of Kings! Lord of the Highest
They said Be it unto us!

Imagine how it felt to raise this child who was their Lord.
Although they both were willing did the veil at all unfold?
Did they contemplate His mission as they raised their little boy,
who was their king Lord of the Highest.
Did they sing Lord of the Highest?
The King of Kings, their little Jesus.
They said be it unto us.
They said be it unto us.
About the Song:
When I think about Mary and Joseph, I can't help but think of how my husband and I were as a very young couple. I was only 18 when I got married and I had no idea what to expect down life's road.

As I wrote this song, thinking about Mary and Joseph, I wondered if they realized the honor and significance of the child they were raising. Surely sometimes, amongst the other children, and parenting responsibilities, it would be easy to forget.... but I'm sure they also had quiet moments, when they would hold their child, love him, and be in awe of him.

I am blessed to be a mother. It is a great responsibility to raise Heavenly Father's children. I believe strongly that each of us has a fore-ordained mission to fulfill on this earth. Mary and Joseph had the honor of being Christ's earthly parents on the earth. Are we as willing to accept our missions, no matter what they may be? Mary and Joseph said, "Be it Unto Us".
The sheetmusic on this page may be downloaded, printed and performed for non-commercial, personal, home and church uses. For any other purpose, please contact the composer for permission.

Also, join the Kerby Music Facebook Group to discuss this song and learn from others who have played this song, or ask Lindy a question!
Comments on 'Be It Unto Us':

"This is a truly inspired song. I just love the lycris; they encourage me to try harder to control my thoughts about others. It is entirely true. Thank you so much for writing this song and sticking on your website." ~ Akihiko

"The words and music are tender and make one ponder if she had Mary's mission.
" ~ Mary Toponce