Go Forth With Faith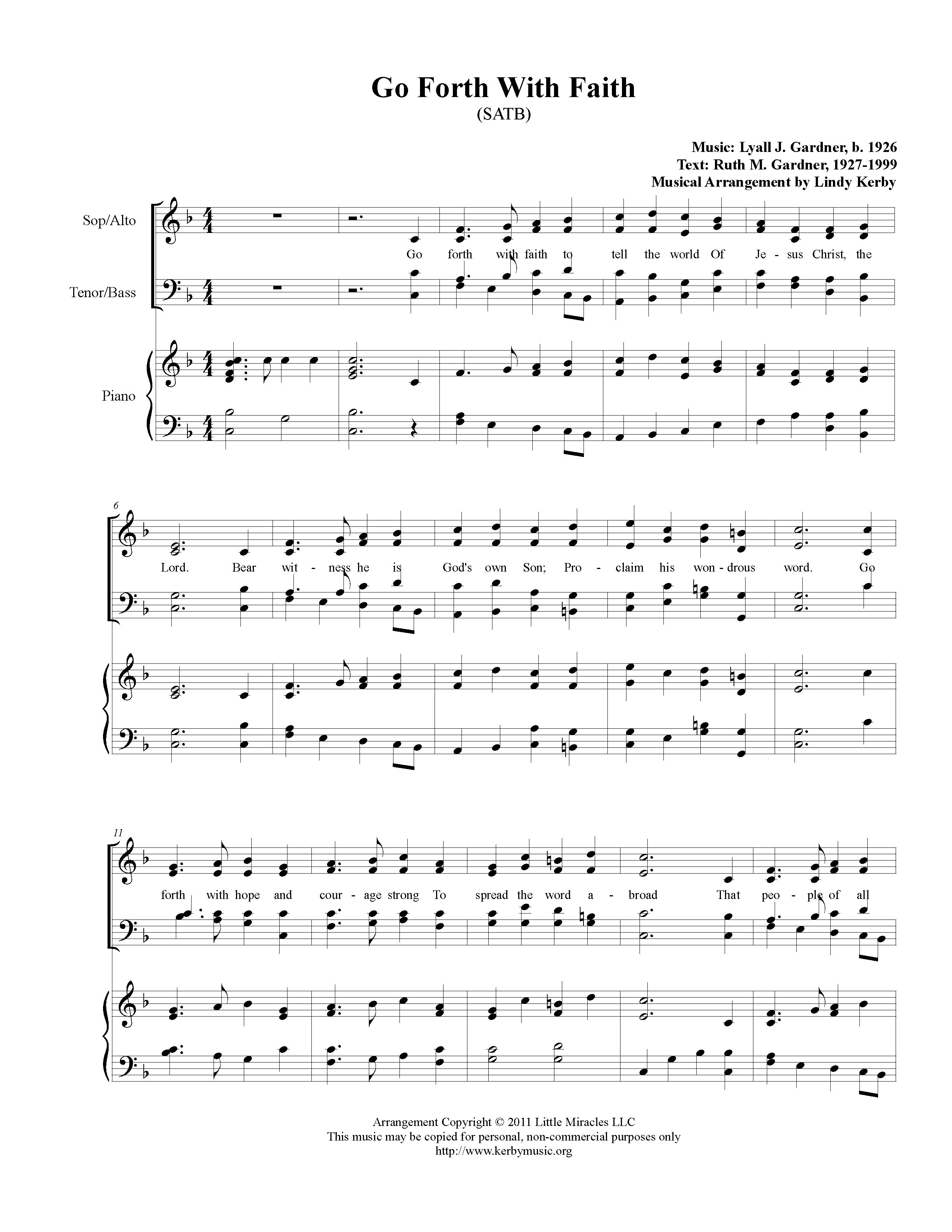 Lyrics:
Go forth with faith to tell the world
Of Jesus Christ, the Lord.
Bear witness he is God's own Son;
Proclaim his wondrous word.
Go forth with hope and courage strong
To spread the word abroad
That people of all nations
Are children of our God.

Go forth with love to tell the world
The joy of families
That we we may be with those we love
Thru all eternity.
Go forth to serve and do your best
With no thought of reward;
Then you shall know the boundless joy
of serving Christ, the Lord.

Go forth with pow'r to tell the world
The gospel is restored,
That all may gain eternal life
Thru Jesus Christ, the Lord.
Go forth forth to preach his glorious truths
Of peace, of joy, and love
That all who heed his holy word
May praise the God above.

About the Song:
I love the words to this hymn. It explains the simple truths of the gospel. It encourages me to be a better missionary.

I arranged this hymn for my choir several months ago, but only recently received permission from the church and the Gardner's to be able to put this arrangement on my website. I'm so grateful that they let me! I also made a midi recording so that you can listen to it. Enjoy!
The sheetmusic on this page may be downloaded, printed and performed for non-commercial, personal, home and church uses. For any other purpose, please contact the composer for permission.

Also, join the Kerby Music Facebook Group to discuss this song and learn from others who have played this song, or ask Lindy a question!
Comments on 'Go Forth With Faith':

"I needed a hymn for a special missionary meeting and I choose this hymn because of the message of spreading the gospel throughout the world. I was so happy to find your arrangement of it. I'm looking forward to preparing our choir to sing such a beautiful arrangement. " ~ Norean Ball

"Great music!!!" ~ Beth Ramsey

"Thanks for sharing the words of this hymn and your arrangement." ~ Chaplain Melba Banks