Holy Little Lamb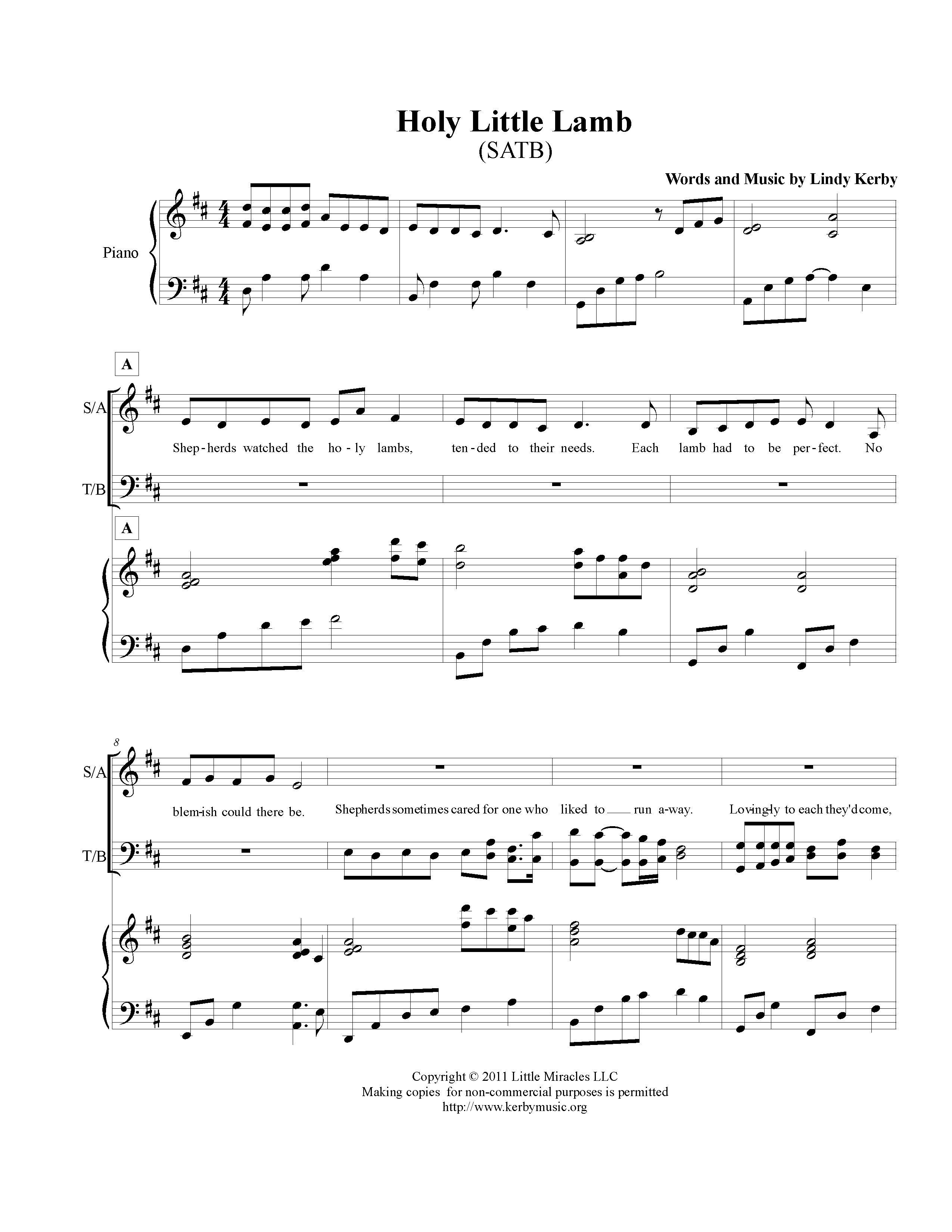 Lyrics:
Shepherds watched the holy lambs, tended to their needs.
Each lamb had to be perfect. No blemish could there be.
Shepherds sometimes cared for one who liked to run away.
Lovingly to each they'd come, call to them and say,

(Chorus)
Holly little lamb
Stay here by my side.
Don't go in the shadows
Stay here in the light
Holy little lamb
What are you suff'ring for?
Come to me,
Don't suffer anymore

Angels sang to shepherds watching lambs that night
to tell them of a baby born beneath a bright stars light.
This babe was the promised lamb our king and shepherd too.
Guiding all his little lambs, He calls to me and you,

Chorus

Come to me, Come to me, Come to me
My holy little lamb.

About the Song:
We read in the Old Testament about how young lambs were to be sacrificed at the hands of the priests for sins committed by the members of their congregations. Only lambs without spot or blemish could be used, symbolic of the sacrifice that the spotless Savior would make when he would come. At the time of Christ's birth, we know that there were shepherds "keeping watch over their flocks by night". It may have been that some of them were sacrificial lambs reserved for those special sacrifices.

When Christ came, the law was fulfilled, and the sacrament was put in it's stead. As we partake of the sacrament, we remember our Savior's atonement. It is through His atonement that the Savior takes away not only our sins, but also our weaknesses, sorrows, and sicknesses. We remember Him, not only as our sacrificial Lamb, but our shepherd, who continues to call and care for us.
The sheetmusic on this page may be downloaded, printed and performed for non-commercial, personal, home and church uses. For any other purpose, please contact the composer for permission.

Also, join the Kerby Music Facebook Group to discuss this song and learn from others who have played this song, or ask Lindy a question!
No comments yet