Love is the key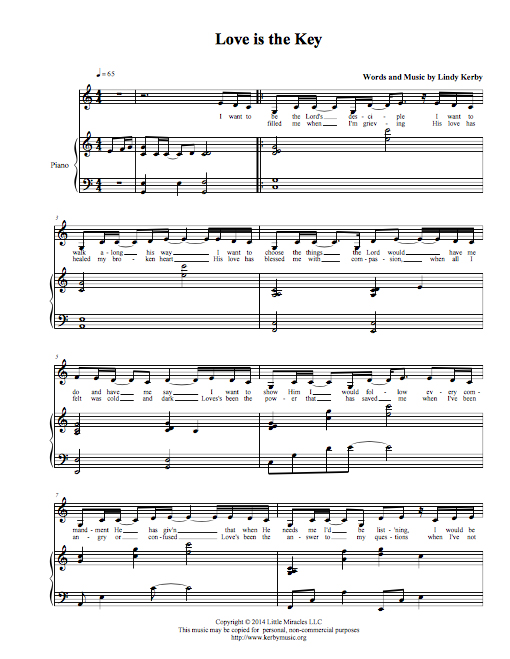 Lyrics:
I want to be the Lord's disciple
I want to walk along his way
I want to choose the things the Lord would
have me do and have me say
I want to show Him I would follow
every commandment He has giv'n
that when he needs me, I'd be listening
I would be coming unto Him
I know that I still walk imperfectly
but God is showing me the way
that when I'm living the first commandment
Everything falls right into place!

When I love the Lord my God with all my heart and all my soul
and with all my might I love Him as my friend
When I lose myself in serving Him
I feel His love for me.
I'm blessed with love~
Love is the Key.

His love has filled me when I'm grieving,
His love has healed my broken heart
His love has blessed me with compassion,
when all I felt was cold and dark
Love's been the power that has saved me
when I've been angry or confused
Love's been the answer to my questions
when I've not known what I should do
I know that I still walk imperfectly
but God is showing me the way
and when I'm living the first commandment
everything does fall into place!

When I love the Lord my God with all my heart and all my soul
and with all my might I love Him as my friend
When I lose myself in serving Him,
I feel His love for me
I'm blessed with Love!
Love is the key to happy marriages
Love is the source of joy and hope
Love's had the pow'r to lift the burdens of my soul
Love's been the way to my discipleship
and love has made my joy more profound
It's when I'm living the first commandment
it isn't that hard because I've found

I do love the Lord my God, with all my heart and all my soul
and with all my might I love Him, He's my friend
As I lose myself in serving Him, I feel His love for me
I'm blessed with love
I feel God's love
I know His love
Love is the Key!

Copyright ç 2017 Lindy Kerby

About the Song:
I wrote this song for a special musical fireside entitled "Love is the Key". I had been learning a lot about love and how it was the key to being happy and feeling peace in this life.

Ironically, it was on the same night of the fireside, that my husband wanted a separation. Learning to love unconditionally has been a gift that has truly made the difference in allowing me to feel peace, be able to forgive and to feel love and happiness despite very difficult circumstances.

Love is the key! I have a testimony of this song and despite the obvious falling apart that happened, things are starting to fall into place.

It's been a difficult trial to go through, but even though I wasn't able to save my marriage, I know that God still loves me and that He wants me to continue to share the things I've learned that have brought me peace despite the obstacles. I hope you'll enjoy this song, and share it with others that are searching for the key to happiness. Truly Love is that Key!
The sheetmusic on this page may be downloaded, printed and performed for non-commercial, personal, home and church uses. For any other purpose, please contact the composer for permission.

Also, join the Kerby Music Facebook Group to discuss this song and learn from others who have played this song, or ask Lindy a question!
No comments yet