Precious Savior Dear Redeemer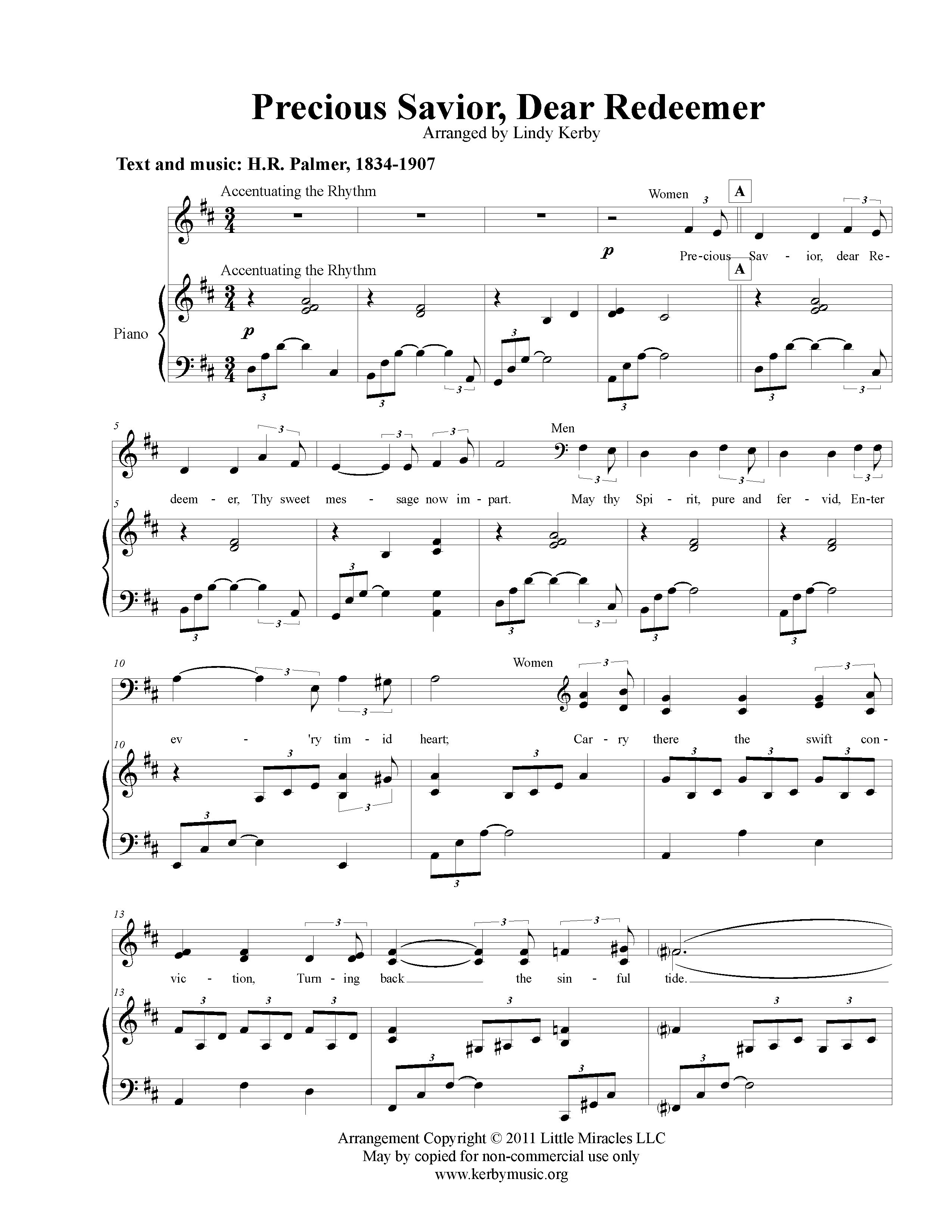 Lyrics:
Precious Savior, dear Redeemer,
Thy sweet message now impart.
May thy Spirit, pure and fervid,
Enter every timid heart;
Carry there the swift conviction,
Turning back the sinful tide.
Precious Savior, dear Redeemer,
May each soul in thee a-bide.

Precious Savior, dear Redeemer,
We are weak but thou art strong;
In thy infinite compassion,
Stay the tide of sin and wrong.
Keep thy loving arms around us;
Keep us in the narrow way.
Precious Savior, dear Redeemer,
Let us never from thee stray.

Precious Savior, Dear Redeemer,
Thou wilt bind the broken heart.
Let not sorrow overwhelm us;
Dry the bitter tears that start.
Curb the winds and calm the billows;
Bid the angry tempest cease.
Precious Savior, Dear Redeemer,
Grant us everlasting peace.

Grant us everlasting peace.

Text and music: H.R. Palmer, 1834-1907

About the Song:
This is an arrangement of the hymn, Precious Savior, Dear Redeemer. Our ward choir needed a last minute song for our Ward Conference, and I decided to do an arrangement of this hymn. We only had one week to practice, so the performance was less than perfect, but hopefully our recording will help you get the idea of how it sounds like.
The sheetmusic on this page may be downloaded, printed and performed for non-commercial, personal, home and church uses. For any other purpose, please contact the composer for permission.

Also, join the Kerby Music Facebook Group to discuss this song and learn from others who have played this song, or ask Lindy a question!
No comments yet