Season to Sing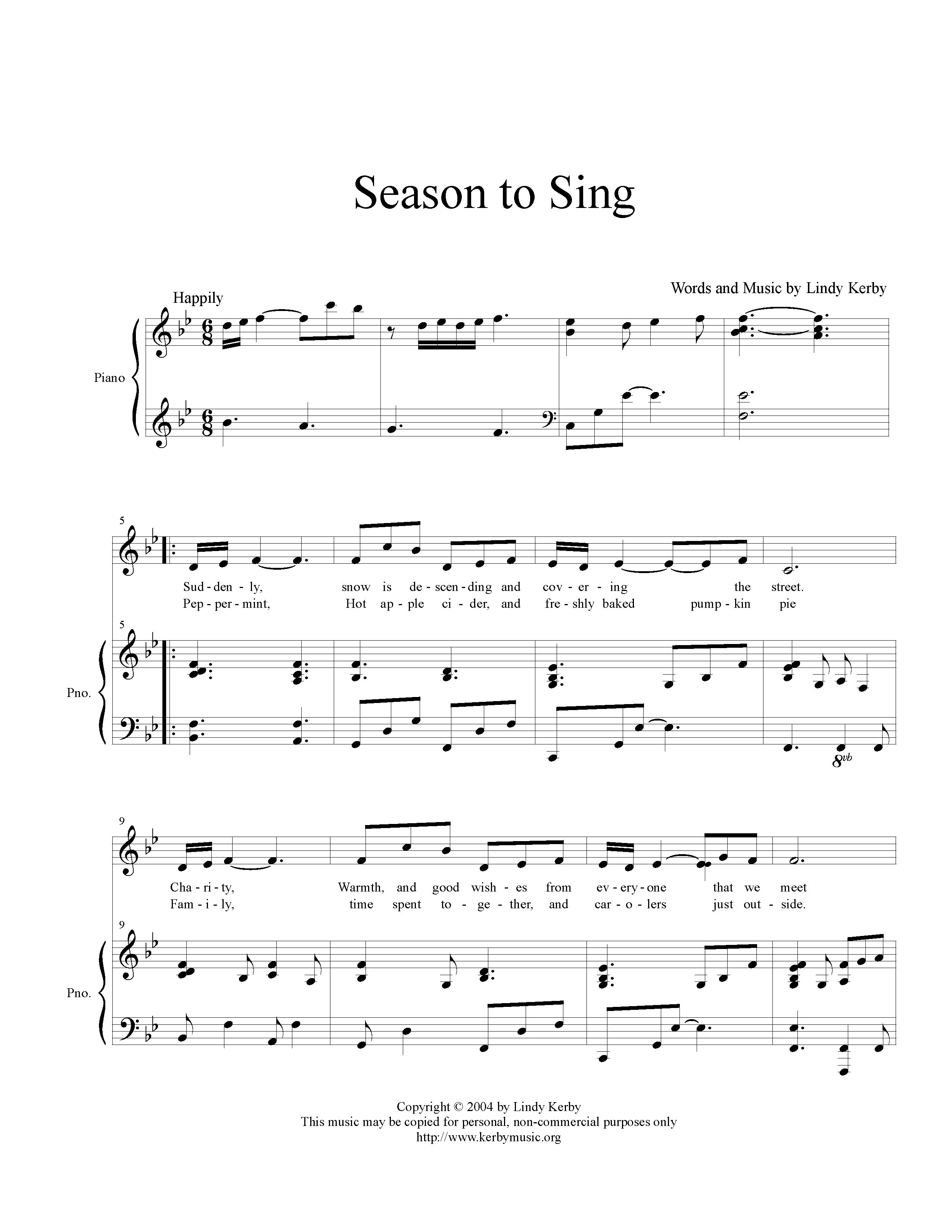 Lyrics:
Suddenly, snow is descending
and covering the street.
Charity, Warmth, and good wishes
from everyone that we meet
Decorated candles,
Stockings on the mantle
it's a beautiful thing,
This is the season with joyous good reason,
this is the season to sing!

Peppermint, Hot apple cider,
and freshly baked pumpkin pie
Family, time spent together,
and carolers just outside.
Now we all are singing
All our voices ringing
it's a beautiful thing!
This is the season, with joyous good reason,
This is the season to sing!

I love to hear all the songs about Christmas.
They fill me with holiday cheer
Singing's one thing I look forward to every year!

So sing along, pick out the melody
Hum along if you dare
then harmonize before long you'll realize
you're singing everywhere!
Don't just think about it
If you find you doubt it
Ring out your voice and you'll see
This is the season with joyous good reason,
This is the season to sing

This is the season for so many reasons
This is the season to sing!

Copyright © 2004 by Lindy Kerby


About the Song:
I love the Christmas season. This song pretty much echoes my thoughts about the season. It's a wonderful opportunity to sing!
The sheetmusic on this page may be downloaded, printed and performed for non-commercial, personal, home and church uses. For any other purpose, please contact the composer for permission.

Also, join the Kerby Music Facebook Group to discuss this song and learn from others who have played this song, or ask Lindy a question!
Comments on 'Season to Sing':

"That is so cool Hector! I hope you'll send me a copy so that I can put it on the site!" ~ Lindy Kerby

"Thannks Lindy for sharing your beautiful music. I am translating/adapting this song into Spanish to be able to sing it with our choir in Guadalajara, México. " ~ Hector Sanchez

"I really love this piece..." ~ samantha mccravy