We Shouldn't Be Ashamed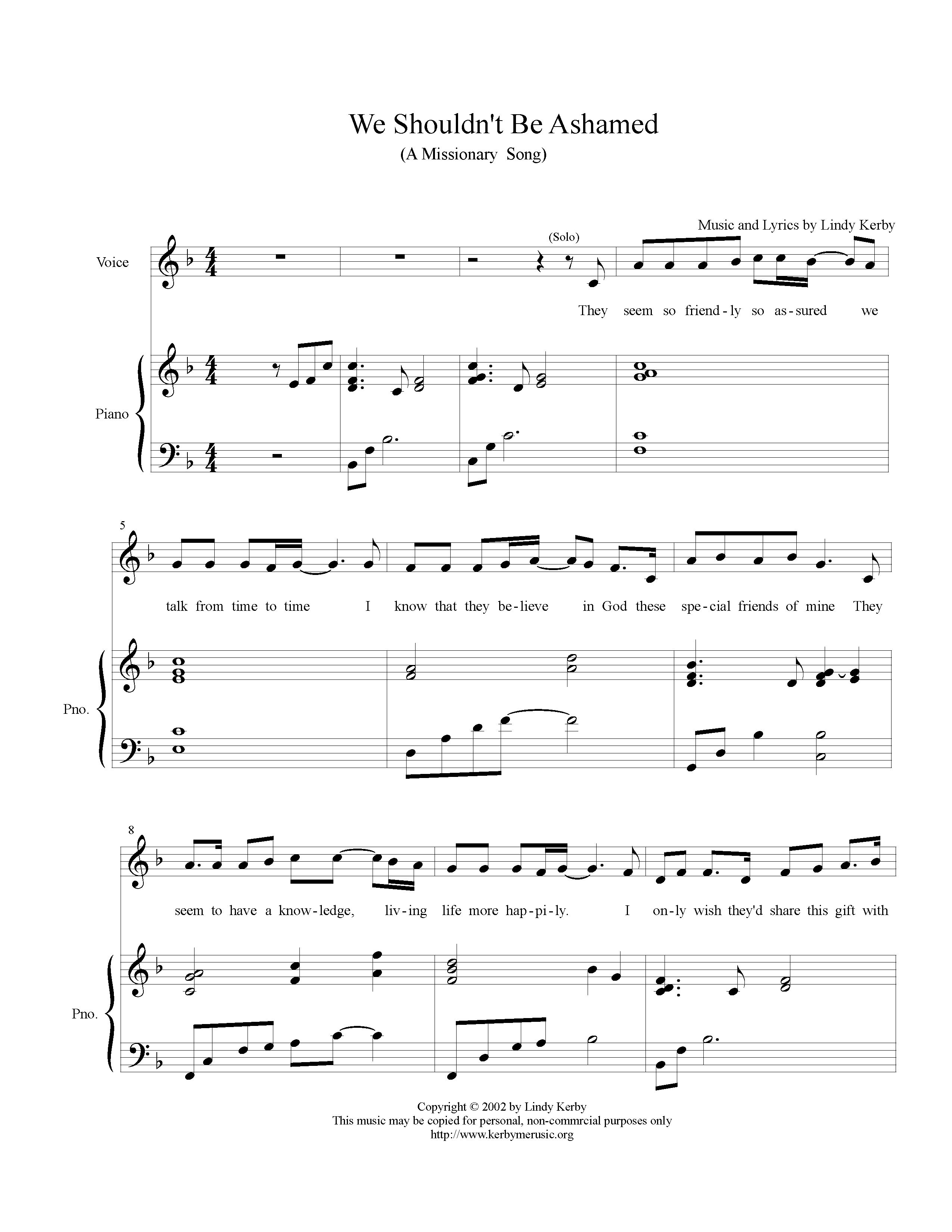 Lyrics:
Soloist (nonmember):
They seem so friendly so assured
we talk from time to time
I know that they believe in God
these special friends of mine
They seem to have a knowledge,
living life more happily.
I only wish they'd share this gift with me

I see them working hard each day
but Sundays they decline
They spend time on each Monday night
as special fam'ly time
I've never seen them smoke or drink
I've never heard them swear
But why they don't they do not ever share.

(Non member Chorus)
They shouldn't be ashamed
to say what they believe
If it really is important to them,
I'd like a chance to receive
If they would share,
I know I'd have to change some things I do
But I might believe and end my search
finding the truth

Choir (Members):
We all have friends we see each day,
we try to do our part
but it's so hard to say the things
that we feel in our hearts.
In fear, we wait for moments
when we know that we can't fail
Why don't we just stand firm and strong,
knowing we'd prevail.

(Members Chorus)
We shouldn't be ashamed to say
the things that we believe
Since it really is important
that we all have a chance to receive
And if we unashamed could
share this message for you,
Oh the joy we'd feel in knowing
you'd finally found the truth!

(Non member and Members Chorus's together)

Soloist and Choir (Together):
We shouldn't be ashamed to
share our Father's plan,
For we all our brothers and sisters,
in a foreign, distant land,

Choir (Members):
And I don't know what I promised,
in this life I lived before,

Soloist (Non-member):
You might have said you'd come and
you'd knock on my door!

(Non member and Members Chorus's together)
About the Song:
This song was written after I had listened to a Sacrament Meeting talk. The speaker talked about how she joined the church. She said that she was the most impressed by the example of the people all around her, but she didn't understand why they didn't talk about what seemed to make them so happy. It was years later when Missionaries finally knocked on her door and she was able to become a member of the Church of Jesus Christ of Latter Day Saints. This talk really made me think about the example that we all are for others around us, and I just wonder sometimes if I would just open my mouth more and share the gosple if there would be people that would embrace the gosple as I have, if I would just share it! Hopefully this song can be a motivator for ward members to want to share the gosple with their friends and associates, who may just be waiting for friends and neighbors to just open their mouths!
The sheetmusic on this page may be downloaded, printed and performed for non-commercial, personal, home and church uses. For any other purpose, please contact the composer for permission.

Also, join the Kerby Music Facebook Group to discuss this song and learn from others who have played this song, or ask Lindy a question!
Comments on 'We Shouldn't Be Ashamed':

"I have a friend who isn't a member and this song really inspired me to try to reach out a little more to her, and live my life better..." ~ Ashlee