We're Gathering an Army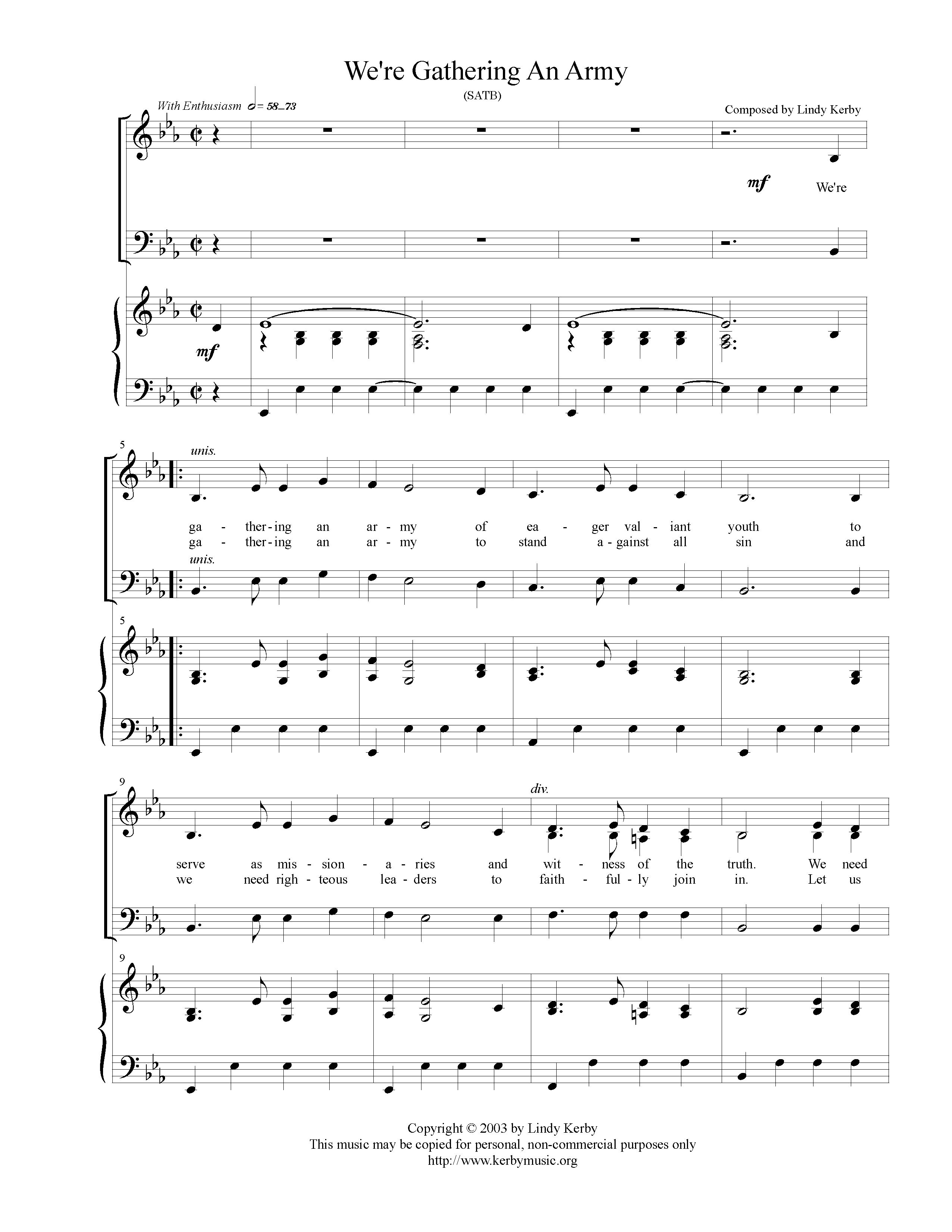 Lyrics:
We're gathering an army
of eager valiant youth
to serve as missionaries
and witness of the truth.
We need good and faithful servants
who have set their standards high;
who have honest testimonies
on which they can rely.

Chorus
We need an army of Helamen
to serve in the latter days;
to live by Christ's example
as they follow in his ways.
And if they are true disciples,
then our army will be strong.
For with truth as our sword,
we will fight for the Lord
As He moves His work along.

We're gathering an army
to stand against all sin
and we need righteous leaders
to faithfully join in.
Let us set our standards higher
As we heed the prophets call.
Let us gather all together;
Unite in standing tall

Chorus

With truth as our sword,
We will fight for the Lord
As He moves His work along!
About the Song:
I felt so inspired by President Ballard's conference talk in the priesthood session of Conference. (I read it in the ensign) I think that his "Raising the Bar" is applicable to everyone, for how can we expect our youth to be stronger unless we ourselves are making the same righteous effort. How wonderful I think it is that we are sending the best of the best out into the field to bring other souls to Christ. I agree fully with the words of our prophet, and am trying to set a better example myself in the things I do and the way I teach my children...
The sheetmusic on this page may be downloaded, printed and performed for non-commercial, personal, home and church uses. For any other purpose, please contact the composer for permission.

Also, join the Kerby Music Facebook Group to discuss this song and learn from others who have played this song, or ask Lindy a question!
No comments yet