What Child Is This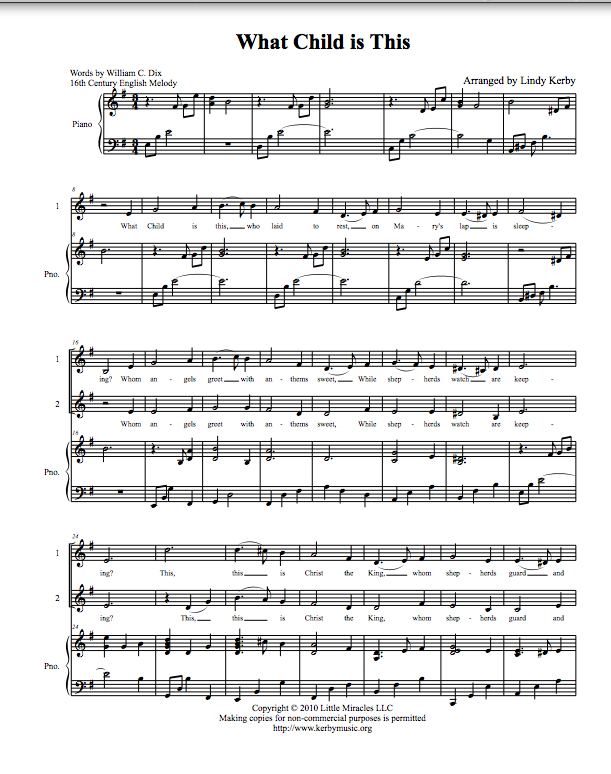 Lyrics:
What Child is this, who laid to rest,
on Mary's lap is sleeping?
Whom angels greet with anthems sweet
while shepherds watch are keeping?

This, this is Christ the King,
whom shepherds guard and angels sing:
Haste, haste to bring him laud,
the Babe, the Son of Mary.

So bring Him incense, gold and myrrh,
Come peasant king to own Him;
The King of kings salvation brings.
Let loving hearts enthrone Him,

Raise, raise the song on high,
The Virgin sings her lullaby;
Joy, joy for Christ is born,
The Babe, the Son of Mary.
About the Song:
This women's arrangement of the traditional melody begins in two-part harmony (Soprano and Alto) and then on the final chorus breaks into 4 parts. For our ward Christmas party, we will have the soprano's sing lines 1 and 3, and the alto's will sing lines 2 and 4. I'm sure the arrangement could also be sung as a solo, duet, trio, quartet, or small women's group. Enjoy!
The sheetmusic on this page may be downloaded, printed and performed for non-commercial, personal, home and church uses. For any other purpose, please contact the composer for permission.

Also, join the Kerby Music Facebook Group to discuss this song and learn from others who have played this song, or ask Lindy a question!
Comments on 'What Child Is This':

"To whom it concerns: Thank you very much. I'm teaching a lesson about the life of Jesus Christ and this song will be perfect. Again thank you for your selfless act of service in providing this song without pay!SincerelyRonda Bartlett" ~ Ronda Bartlett

"A really nice arrangement and it works incredibly well on harp. Thanks a lot!" ~ Henni

"We sang this song for the Christmas program and we're going to visit people now that didn't get to come yesterday and sing this song. " ~ crystal

"I love this arrangement. I'm putting together a womens' trio for our ward Christmas party! " ~ Debbie