Wise Men Still Seek Him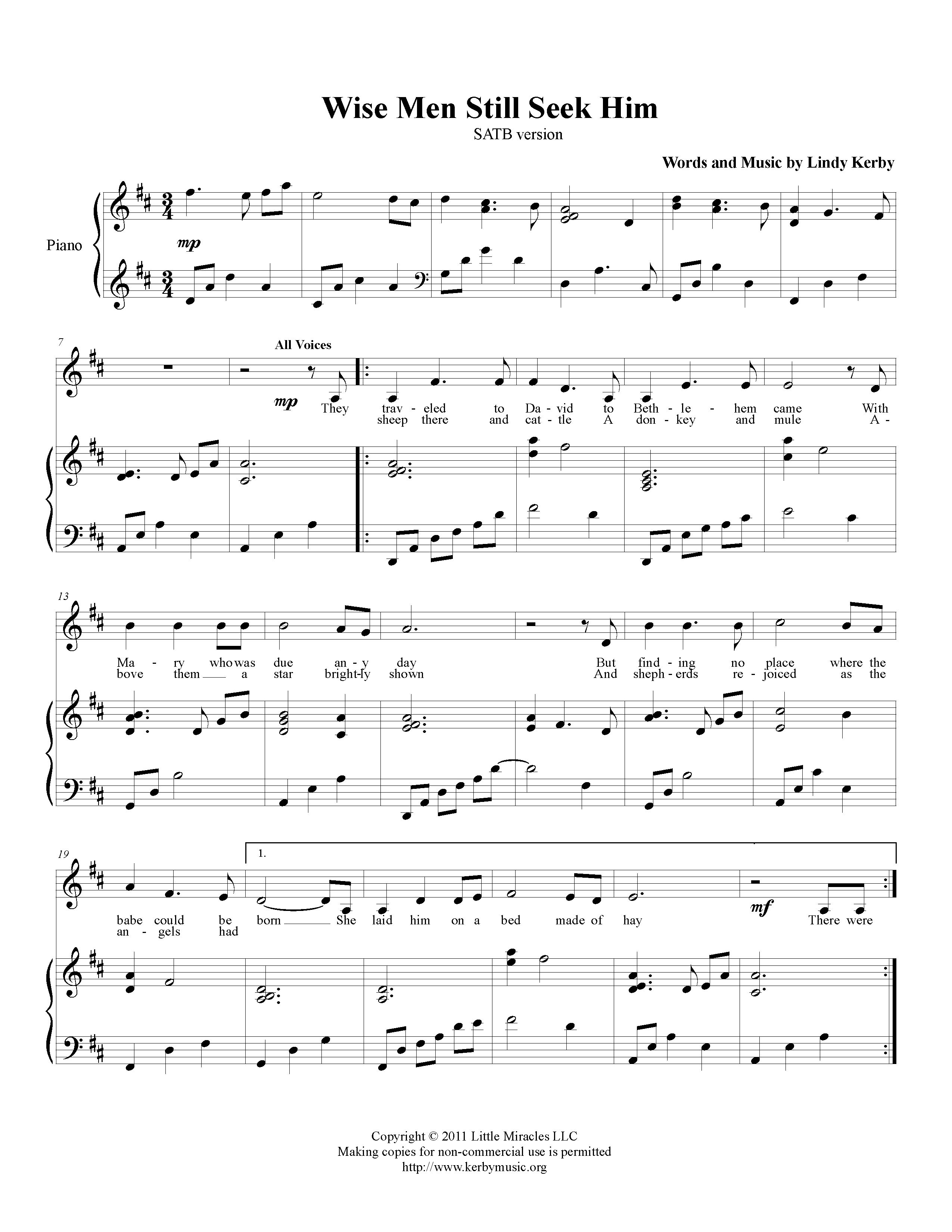 Lyrics:
They traveled to David,
to Bethlehem came
With Mary who was due any day.
But finding no place
where the babe could be born
She laid him on a bed made of hay

There were sheep there and cattle
A donkey and mule
Above them a star brightly shown
And shepherds rejoiced as the angels had said
on that day that the Savior was born.

And wise men came seeking their King and Messiah
with gifts from their hearts they did sing
With tears they rejoiced
as their hearts filled with love
for Jesus, their Savior and King

Jesus grew older
a man he became
His sacrifice blessed the whole earth
We now can return all because of his gift,
Indebted we are for his birth

And wise men still seek him, their King and Messiah
with gifts from their hearts they do sing
With tears they rejoice
as their hearts fill with love
for Jesus, their Savior and King

Some day we will see him, our King and Messiah
with gifts from our hearts we will sing
With tears we'll rejoice
as our hearts fill with love for Jesus,
for Jesus, our King!
For Jesus, our King!
About the Song:
My freshman year in college, one of my roommates (who is now my best friend) pointed out a beautiful embroidered quote that read, "Wise Men Still Seek Him". I'm not sure who came up with it originally, but I've thought a lot about that quote and its significance.

The wise men traveled many years to find the young child, Jesus. "They had seen the star, and came to worship him." I am inspired by their faith and their desire to be where the Savior was. They must have known who He was, and what He would do for them.

At Christmas time, we have the opportunity to not only rejoice in Christ's birth, but in His life and in His ministry. His life was a gift from a loving Heavenly Father to help us to return to live with Him again. I rejoice in the day that He will return to the earth as King of Kings and Lord of Lords. I know that in that day I want to offer whatever gifts I have to him, (though like the Frankincense and Myrrh, they probably won't make much of a difference to Him!) and will be rejoicing through watery eyes, For Jesus my Savior and King!

The sheetmusic on this page may be downloaded, printed and performed for non-commercial, personal, home and church uses. For any other purpose, please contact the composer for permission.

Also, join the Kerby Music Facebook Group to discuss this song and learn from others who have played this song, or ask Lindy a question!
Comments on 'Wise Men Still Seek Him':

"Thank you for your support in each score! It is rather difficult to find good free music nowdays." ~ Jill

"I just wanted you to know that I have used this song several times for my ward choir at Christmas. I love it and it is so revelant today. Thank you for sharing your talents with us." ~ Linda Brown

"We just sang this beautiful song during our sacrament meeting Christmas program. We really enjoyed the special feeling of the song. " ~ Diann Wilcox

"I love this song. Our ward choir performed this for
sacrament meeting at Christmas. Every time we practiced it the
spirit would come into the room. One of my most favorite pieces.
Thanks you for sharing it with us." ~ Mechele Eckman

"Our ward choir sang this for Christmas 2 years ago. I keep getting requests to sing it again - and it is a song people tell me they keep singing at Christmas time to themselves in their heads. We all loved it - and I think I will try to do a repeat performance this year. Wonderful song. Thank you SO MUCH." ~ Peri Bennion

"Used this for our Ward Christmas program. Choir members loved it. Tears were shed during performance" ~ jana darrington

"Beautiful lyrics." ~ Bernadine